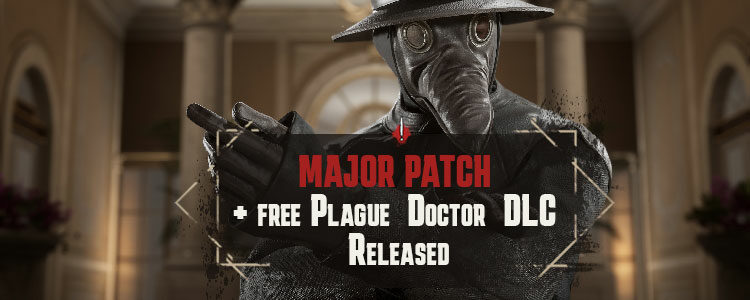 Major patch and Plague Doctor DLC released!
We just deployed a major patch to all consoles as well as a free Plague Doctor cosmetic DLC
Hello detectives,
They say that the best things in life are free. Is this true? Well, we're not entirely sure. So to test this theory, we've decided to release a DLC pack featuring some brand-new outfits all for free. As of right now, you have two new outfits to try out – the classic Plague Doctor costume and the scientifically proven highly sophisticated Laboratory Coat.
We also have a brand new patch that improves performance, gets rid of nasty bugs, improves the quality of life, and adds a few smaller features. You can see the detailed list right below.
Catch the fever young Sherlock. It's time to diagnose who the culprit is. And if you love taking screenshots of our game and you decide to use our new outfits, do send your screens to us! We love seeing what you all come up with.
Thanks again for all your support and we hope you'll enjoy your new outfits.
Regards,
Your Frogwares Team
Updates:
Updated the "How to Play" section.

Modified PC controls custom binding.

Updated credits. Added missing names.
Quality of Life:
Performance optimization.

Added additional feature (PC only) — FPS limit to decrease hitches and stuttering. 

Added additional feature (PC only) — FSR (Fidelity Super Resolution).
Bugs Fixed: 
Fixed bugs that negatively affected the game's performance.

Fixed and modified the checkpoint mechanics before the ending so that players can finish other quests.

Various localization fixes.

Fixed a bunch of issues related to gameplay and visuals.