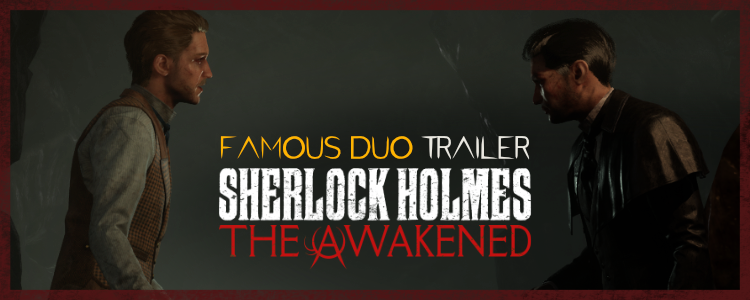 Sherlock Holmes The Awakened — Famous Detective Duo Trailer
While one gets lost in the delusion of their mind, the other pulls closer to the truth. Watch our latest Famous Detective Duo trailer.
The release date of our game is just around the corner. We are thrilled to share with you the legendary friendship tale of Holmes and Watson in our new Famous Detective Duo Trailer, which highlights the expanded take on the relationship between the two.
Famous Detective Duo Trailer
Daunting Task of Saving the World from Chthonic Madness
The bond between Holmes and Watson is unbreakable, with each of them complementing the other's strengths. While Holmes may sometimes get lost in the delusions of his mind, Watson always keeps him grounded in the truth. Together, they face the daunting task of saving the world from chthonic madness, but will they emerge victorious or will they succumb to it along with the rest of humanity?
Sherlock Holmes The Awakened will be in your hands on April 11, 2023. Pre-order today to receive three exclusive outfits.
Despite the challenges we have faced in Ukraine, we continue to hold on strong, and your unwavering encouragement gives us the strength to keep moving forward. We are forever grateful for your support and excited to showcase what we can do, especially during these uncertain times.
With love,
Your Frogwares Team
P.S. For more updates on our games, visit our social media channels:
Frogwares Twitter — twitter.com/Frogwares  
Sherlock Holmes Franchise — Facebook | Twitter 
The Sinking City — Facebook | Twitter 
Frogwares YouTube — YouTube
Frogwares Discord — discord.gg/frogwares 
Frogwares TikTok — tiktok.com/@frogwares