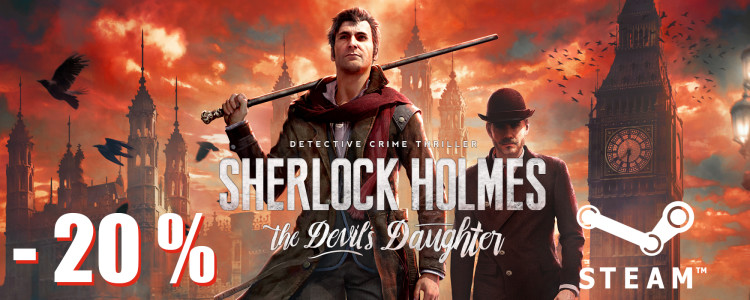 The Devil's Daughter with Pre-Order Discounts on Steam!
Do not forget to enjoy your discounts for pre-ordering our latest game on Steam
We are pleased to announce that our latest game, Sherlock Holmes: The Devil's Daughter, is now available for pre-orders on Steam at http://store.steampowered.com/app/350640/  AND
The Pre-Order version includes additional disguise costumes and accessories
 If you are an avid Sherlock Holmes fan and are enthusiastic about pre-ordering the game, then become one of the first to uncover the truth together with the brightest detective mind ever! Then you will be awarded with a 20% discount.
 But that's not the end of it! Should you also be the proud owner of any of the games in the Sherlock Holmes Collection on Steam*, you are getting an incredible 30% discount!
  The truth will be eventually unveiled on 10 June, so hurry up…
* The Sherlock Holmes Collection on Steam Includes:
– Sherlock Holmes: Nemesis
– Sherlock Holmes: The Awakened – Remastered
– Sherlock Holmes: The Secret of the Silver Earring
– Sherlock Holmes: The Mystery of The Persian Carpet
– Sherlock Holmes versus Jack the Ripper
– The Testament of Sherlock Holmes