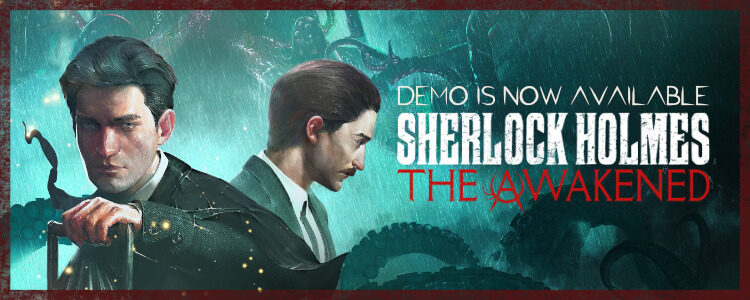 Sherlock Holmes The Awakened Demo and Extended Gameplay Trailer
Get a taste of The Awakened with a limited-time demo and check out a new gameplay deep dive trailer.
Dear friends! The Steam Next Fest starts today and Sherlock Holmes The Awakened is taking part. For the whole festival, you'll be able to play a select portion of the game through our 1-hour Steam demo.
Download Sherlock Holmes The Awakened Demo, test your detective skills and let us know your thoughts on your experience on our social channels, Steam, or Discord.
How About a Quick Visit to a Mental Asylum, Young Sherlock?
Holmes and Watson are starting to get the feeling that something a lot more sinister is at play with these recent disappearances they have been investigating. This leads them to an isolated psychiatric hospital in the Swiss Alps. But something darker seems to be hiding underneath the facade of this prestigious institution.
Holmes comes up with a plan to get himself intentionally admitted, to be able to dig a little deeper, but one wrong move and, perhaps, he could end up being a permanent resident. Start to unravel the mysteries that lie within and the darker forces that are pulling the strings of this Eldritch horror investigation.
Don't hesitate to get your hands on the free Sherlock Holmes The Awakened demo!
Gameplay Deep Dive Trailer
Additionally, we'd also want to share this new gameplay deep dive trailer to show off some new footage while also touching more on the game's insanity and investigation elements.
Thank you,
Your Frogwares team
P.S. For more updates on our games, visit our social media channels:
Frogwares Twitter — twitter.com/Frogwares  
Sherlock Holmes Franchise — Facebook | Twitter 
The Sinking City — Facebook | Twitter 
Frogwares YouTube — YouTube
Frogwares Discord — discord.gg/frogwares 
Frogwares TikTok — tiktok.com/@frogwares