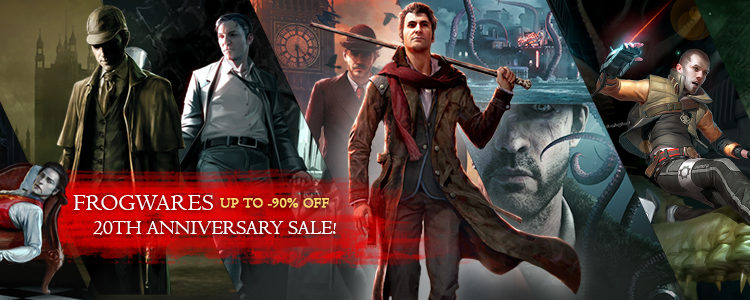 Frogwares turns 20! Free game giveaway and huge discounts upon us!
Let's celebrate together!
Hey everybody,
Today is a very special day – Frogwares turns 20 years old!
It's been an incredibly challenging, but absolutely wondrous journey, and we want to express our gratitude to all of you nice folks for sharing it with us. When we started our company two full decades ago, we could not imaging we would find so many passionate fans who care about our games.
To celebrate this joyful milestone with every and each one of you, we are throwing a 20th Anniversary Sale, with huge discounts on our games. The sale is currently live on Steam, as well as GOG.com. Owners of Xbox Live Gold can purchase Sherlock Holmes Crimes and Punishments at an 80% discount, with more storefronts to follow shortly.
We will update this page with more information.
That's all folks!
Enjoy your week and take care of yourself in these strange times.
Best regards,
Frogwares Team