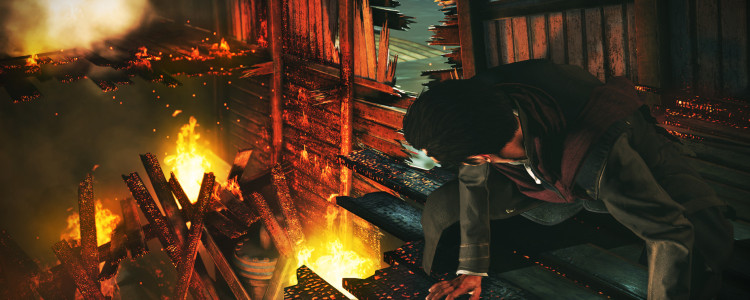 Story Trailer for Sherlock Holmes: The Devil's Daughter
Dear fans,
we have some news for you, few days before the release of Devil's Daughter in Europe,
First is the story trailer that you can find here : https://www.youtube.com/watch?v=KZqsRsSgN4Q
Then we have some  brand new screenshots :
A lot of people have been asking why we changed Sherlock Holmes and Doctor Watson appearance, we promised and explanation and here is why :
A cold and 'old school' Holmes can work really well when it comes to playing a detective who is manipulative and/or unfeeling. This time around, though, we wanted him to be open to emotion. We needed a character who was a credible father. Clumsy, ok, but still loving.
So we reworked it that way to create a strong emotional bond between Holmes and his daughter, Katelyn.But you can't modify just one character. You need balance. Katelyn has to be cheeky and reactive, Watson a believable friend, everyone around them dynamic.
In other words: it's not a matter of making cosmetic changes, but rather a real fundamental change to the game itself.
The game universe therefore has to be modern and open.
While there are still investigations drawing Holmes' attention, our Baker Street has come to life. So we had to revitalise all the other areas too.
In The Devil's Daughter, the suspects appeal to Holmes' sentiments, the situations remind him of his duties, and his conclusions are not without consequence for life in Baker Street.
The world around Holmes is now more than just a stage prop: it acts and reacts.
We've changed the depth, but not the DNA
So if you're worried, don't be. The gameplay presents the same dynamic: it doesn't renounce the classic Sherlock Holmes fundamentals of conducting the investigation and uncovering the truth. You know how much we like deducing! We still want you to feel like you're an extraordinary detective!
It's just that the investigations, while still as complex, are darker, and leave more room for emotion.
Why? Quite simply because the more intense the cases, the deeper they twist the knife. Let me explain: when he sets off on an investigation, Holmes thinks he is leaving his problems with his daughter behind him. But the darkness of the stories only serves to reflect his mistakes all the more clearly.
Who is he to demand the truth, when he can't speak it to his own daughter? What right does he have to decide the fate of the unlucky when he himself does harm?
Take a deep breath: you make your own decisions!
Darkness and grey matter. Love and humour. Action and questions…
We hope you'll have something to mull over starting June 10th ! 😉